I've been to the Nashville airport 10 times (coming and going) in the past 3 ½ months. Each time brings its own hodgepodge of emotions. Going before Killian was born it was hopeful and anxious. Leaving while he was still so touch and go while on ECMO was earth shattering/gut wrenching/spirit crushing. Going back just 48 hours for his repair surgery- nervous/petrified/breathless. Leaving 5 days later when seemed stable- back to hopeful and anxious. Getting the call that
we were losing him
…well, you get the gist.
This time was different. It was like I was coming to visit on my own terms. Other than just pure excitement to see him, there was no sense of urgency, like a have-to-get-there-now-in-case-he-doesn't-make-it sort of urgency. And when I did get there, I walked in to see this chubby little cherub- eyes wide open and ginger hair a mess (yes, we think he just might end up being a ginger!), looking like a real baby!
The whole time I was there I was like a reporter. Anytime a doctor or nurse told us anything, I whipped out my little yellow notebook to scribble things I thought you'd all like to know. Probably the most important thing is to summarize what it's going to take to get our boy home.

And after hearing everything they had to say, and though I'm not a gambler, I would liken our journey to playing a slot machine. It's like sometimes we get 2 cherries and star, only winning
$25-right dose of pain and anti-seizure meds plus glimmers of mental development. Other days we get a lemon, a lime and an "X"- increased heart rate, difficulty breathing and a fussy attitude. Well, right now we're up in our winnings but we haven't hit the jackpot!
Here's what triple 7's and hitting the jackpot looks like (and what we're asking that you pray/send positive thoughts for):
He has to come off the nitric oxide that he's on to help his pulmonary hypertension. Going from 20-5 on that is no problem, but going from 5- 0 is really really tough. He's at 5 now. They will be weaning it all the way down slowly over the next month.
We need his pulmonary hypertension to stay GONE (which it is right now- praise the Lord!) or at least manageable with the oral medication.
We need his heart rate to come down and stay now in a normal range. It's been running a little high since they began weaning the nitric.
He has to get off the methadone. He's at one dose every 24hours now and doing okay, but Linds said she saw a small tremor today in his leg.
He has to consistently stay below 40% oxygen. The whole time I was there he was at 38%.
He'll have to do feeding assessment to see if he can handle bottle feeding. They can't do the assessment until he's down to at least 2 on his vapotherm (pressures).
If he has feeding complications, which a lot of babies with congenital diaphragmatic hernia do, he'll have to get a feeding tube (a.k.a. g-tube or button) surgically inserted into his belly area…. This is scary because he'll have to be reintubated for that surgery and we just don't want to do that.
If that does happen, then we'll have to see how he handles being extubated again.

It seems like a lot, I know. And to be honest, the way it sounds, he'll probably be in there for another month or two. We WILL hit a jackpot, friends. I just know it! And to give you faith, here's my first hand, eye witness praise report from the front lines:


You know how we thought his pulmonary hypertension was better (from severe to mild)? Well I heard the doc say, "."Well, now that his PH is gone!!!! Sooo many prayers answered there! Especially when everyone told us there was little to no hope! It could come back now that they're weaning the nitric, but at least we know that he can get better!
Killian is suckling on his pacifier. The doc said this is a VERY good sign that he just may take feeding from a bottle well because some CDH babies have an oral aversion. And if he's suckling while on that high of pressure from the nasal cannula, then one would think it will only get better as it goes down, right?
Developmentally, I think that baby is all there! (watch the video below) He follows objects with his eyes. He recognizes voices (don't worry, I didn't sing to him any this time b/c the last time I did he cried terribly!). When Grandpa Garry says, "Hey Buddy!" he perks right up. And sometimes it's like he's trying to have a conversation with you (stayed tuned for the cutest video ever of him "telling" Pawpaw Garry a story). Obviously we won't know for certain until he's older or has official evaluations but WE KNOW he has a beautiful bright personality and no matter what is true joy to those he's around.
Lindsey and I got to see him smile! Like a for real smile! Next to me holding him (blog post to come on that later), that was the highlight of my trip!
Grandpa Garry and I both got to hold him! That is that answer to thousands of personal prayers!
Because of your generous donations and the money raised byBGT (my employer) Lindsey and the family has been afforded time with Killian-the most precious gift. I truly believe that a lot of his progress can be attributed to the fact that there is a family member in the room with that boy nearly 15 hours a day. So THANK YOU for that! She starts her part-time job next week- yet another prayer answered to find an employer who is sympathetic to her situation.
And more praises go out for the prayers for the staff at Vanderbilt Children's Hospital. We really hit the jackpot with the doctors and nurses who have been taking care of him and moving him forward.
I don't have to remind you that they told us about 14 weeks ago that Killian had a 5% chance of survival...and now they're talking about an exit strategy!
I didn't think it was possible, but after this weekend I'm even more in love with my family and especially with Killian. From half-sisters and stepparents to biological parents and former stepparents (in my case) we truly are incredibly blessed! Our family dynamic is really a sight- a great one! Each person brings a layer of love that has kept the others going. What a wonderful tapestry our heavenly father weaves!

I won't lie. I did cry leaving the hospital this time, but they were the happiest sad tears yet. CAN'T WAIT TO GO BACK!!! Especially to get more of these…..
My Grandpa Garry was an Apache pilot, so my great grandparents got me my own flight suit so I can be just like him!
My slightly strawberry blonde/red hair is getting long!
Don't do it Aunt Layna, please don't sing to me again.
I take one quick nap and they dress me up...again! I have my Cherub wings and a cotton tail.
A shout out to all my PEEPS!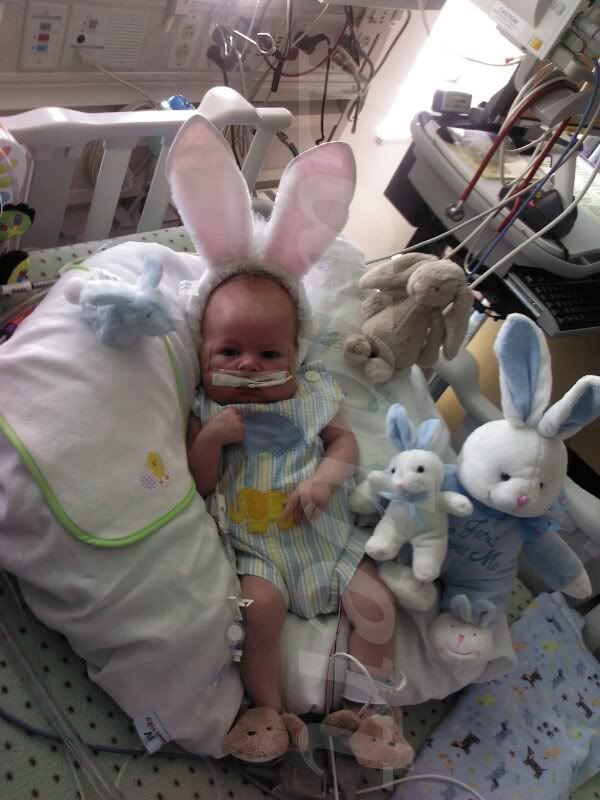 I'm going to really be mad about this one some day.
I've discovered ballons...and next to my mobile, I love them more than milk!
Hugs from Florida,
Killian's Aunt Layna
P.S. Like his fan page to get the daily updates:
http://www.facebook.com/pages/CDH-Cherub-Killian/301945533181876
~~~~~~~~~~~~~~~~~~~~~~~~~~~~~~~~~~~~~~~~~~~~~~~~~~~~~~~~~~~~~~~~~~~~~~~~
Killian has been fighting - like a champion! - for his life since he was born. Because Killian's family is so spectacular; their friends decided to create this website in their honor to help in any way possible.
We are overwhelmed by the amount of people who have asked for an avenue to help Killian, Lindsey and the family. Any donation made below will go to help pay for food while staying in the hospital, gas back and forth, travel for family and the general care Killian will be receiving beginning on the glorious day he leaves the hospital!
All donations go
directly
to Killian's care and the care of his family. Also, ten percent of all money collected will be donated to
Cherubs
, The Association of Congenital Diaphragmatic Hernia Research, Awareness and Support.
CDH occurs when the diaphragm fails to fully form, allowing abdominal organs into the chest cavity and preventing lung growth. CDH occurs in 1 of every 2500 births; somewhere in the world, a baby is born with CDH every 10 minutes. 50% of babies diagnosed with CDH do not survive. The cause is not known. Over a half million babies have been born with CDH since 2000.

CDH is as common as Spina Bifida and Cystic Fibrosis but there is very little awareness and even less research.