First things first, here's the latest on baby Killian:
Last night Killian threw up a little. The coloring of it slightly alarmed the nurse so they stopped his feedings and did an x-ray.
The x-ray showed that his intestines were slightly irritated, but nothing else terrible, so they gave him pepcid.
This afternoon they went to half feeds and he seems to be doing well.
In fact, Lindsey says lately he's been dancing! I can't wait for her to actually catch it on video!
He's down to 4 on the nitric!
His heart rate is running a little high and that has me personally a little concerned, but the doctors seem okay with it so...
Great news is last night when he got sick they pulled a blood gas and did an infection test and everything came back ok!
Little champ is down to 31% oxygen and still breathing on his own!!!!
Tonight, please pray send positive thoughts for his pulmonary hypertension to stay gone even while they wean the nitric, for his heart rate to come down and stay down without the aid of medication, that his little tummy and intestines would be settled and for a peaceful night!
::::Wish I had a graceful transition::::
I had fully intended on writing my next blog post about how Grandpa Garry (Lindsey's and my dad) got to hold Killian this past weekend but, since he got to hold him before me, I'm going to tell my story before his! :) And this story is best told through pictures and video!
I had promised myself that I wasn't going to
ask
to hold him. I didn't want to put any pressure on Lindsey and I didn't want to put Killian through any unnecessary stress. And hand to God, seeing our dad get to hold him and shed a few tears was enough for me.
So you can imagine my joy and excitement while sitting in the room Sunday when Killian's nurse just turned around and said, "Who's gonna hold him today?" Lindsey just pointed to me and said, "She is."
I bumbled around like an idiot. Washed my hands. Put on the hospital gown. Sat down and opened my arms and...
He was a little upset. And all those tubes and cords certainly made me nervous.
I was constantly checking his heart rate to make sure he was okay.
And then we found our groove!
Lindsey, Killian and me!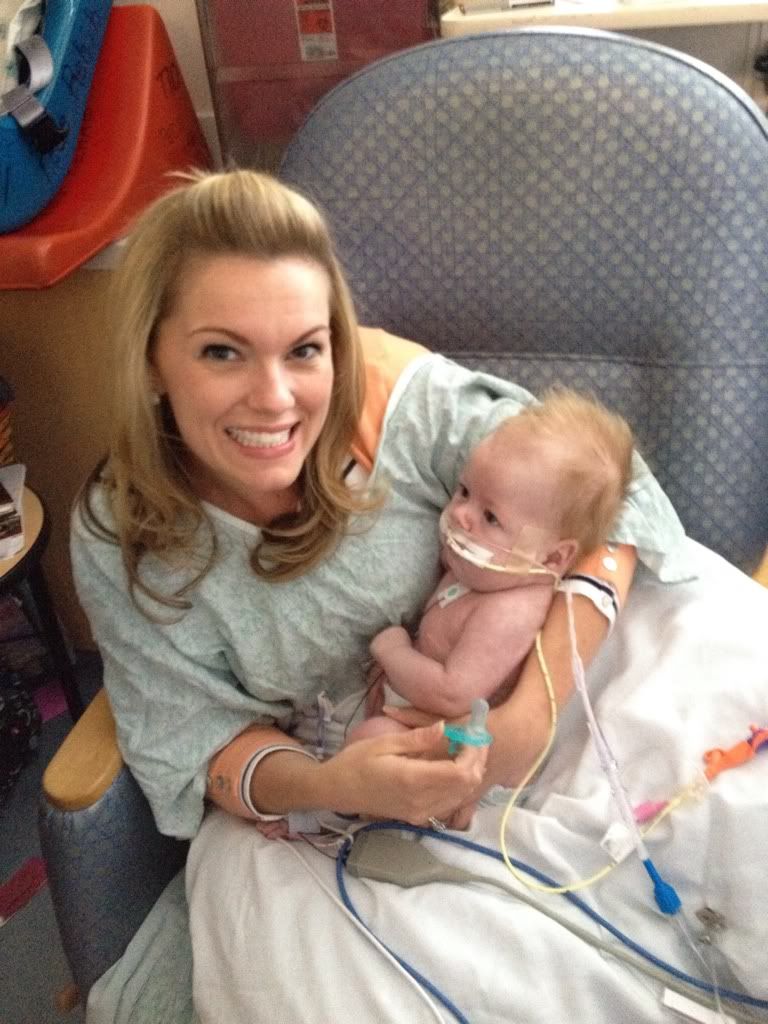 My cheeks hurt from smiling so much.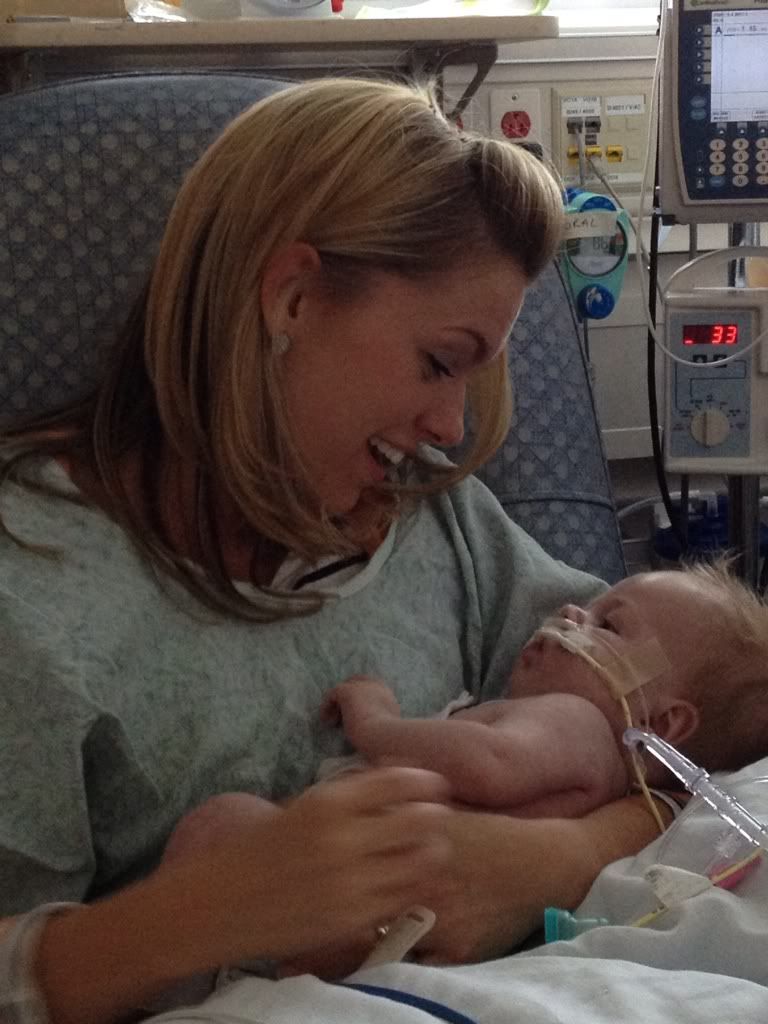 I love him so much!!
As my dad said, holding Killian was that answer to countless prayers. It was a reward for buckets of tears. There were days when I never, ever thought we make it to this point. SUCH A BLESSING! What's really nuts, is that holding him now made me miss him even more. Before I missed watching him and talking to him. Now I miss holding him!
And here are some other fun pictures of us just kickin' it- old school. :)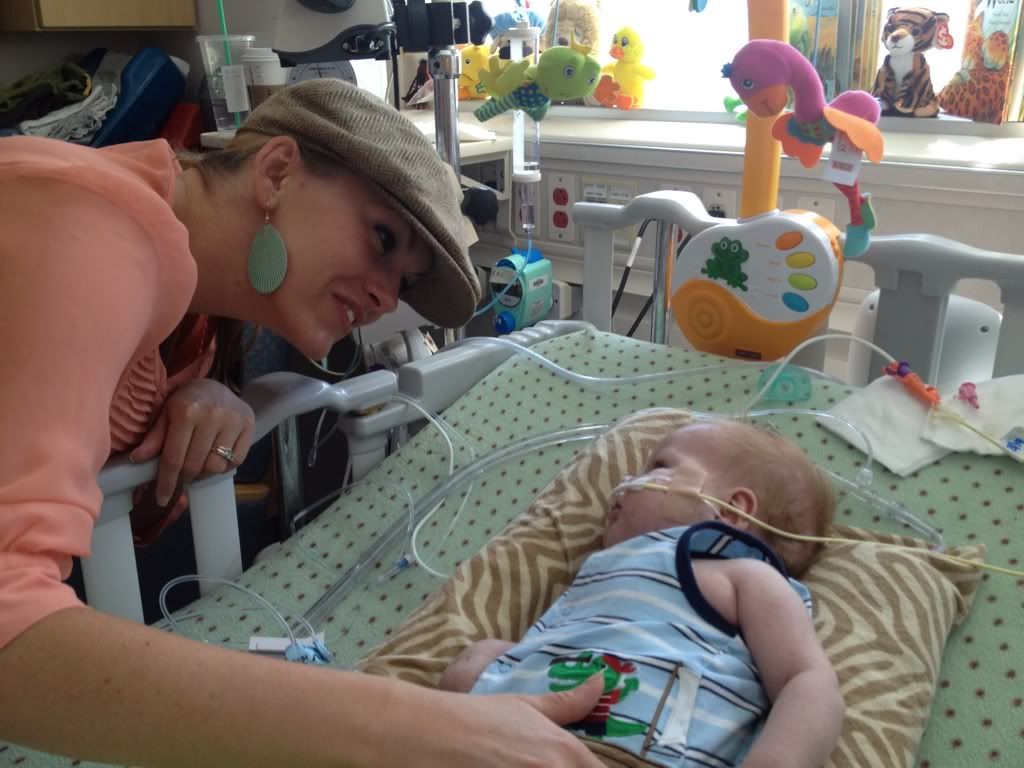 When Killian gets upset, he likes his but patted.
He's saying, "Hey crazy lady, get out of the way. I want to look at my mobile!"
This was before actually holding him. I got to help lift him to change his bedding.
Diaper time. Aunt Layna's first Killian diaper change.
I obviously have a lot to learn because I put it on backwards.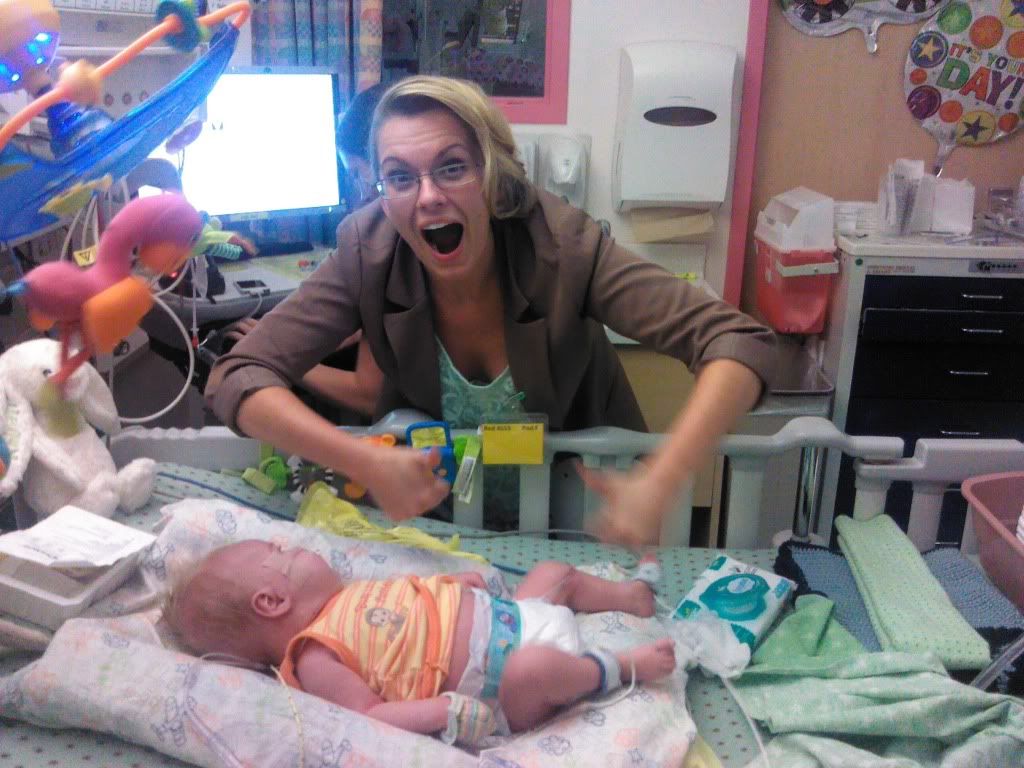 Success!
My husband and I don't have kids of our own yet, but I can't wait. Loving Killian seems like the most natural thing I've ever done. My husband jokes that now I have the "baby rabies" :)
Hugs from Florida,
Killian's Aunt Layna
P.S. Like his fan page to get the daily updates:
http://www.facebook.com/pages/CDH-Cherub-Killian/301945533181876
~~~~~~~~~~~~~~~~~~~~~~~~~~~~~~~~~~~~~~~~~~~~~~~~~~~~~~~~~~~~~~~~~~~~~~~~
Killian has been fighting - like a champion! - for his life since he was born. Because Killian's family is so spectacular; their friends decided to create this website in their honor to help in any way possible.
We are overwhelmed by the amount of people who have asked for an avenue to help Killian, Lindsey and the family. Any donation made below will go to help pay for food while staying in the hospital, gas back and forth, travel for family and the general care Killian will be receiving beginning on the glorious day he leaves the hospital!
All donations go
directly
to Killian's care and the care of his family. Also, ten percent of all money collected will be donated to
Cherubs
, The Association of Congenital Diaphragmatic Hernia Research, Awareness and Support.
CDH occurs when the diaphragm fails to fully form, allowing abdominal organs into the chest cavity and preventing lung growth. CDH occurs in 1 of every 2500 births; somewhere in the world, a baby is born with CDH every 10 minutes. 50% of babies diagnosed with CDH do not survive. The cause is not known. Over a half million babies have been born with CDH since 2000.

CDH is as common as Spina Bifida and Cystic Fibrosis but there is very little awareness and even less research.