Happy Sunday friends! Hope you all got your taxes done ;). Killian has had a great week and weekend, but Tuesday is quickly approaching with a big test. Snapshot time:
Killian has been off the vent for TWO FULL WEEKS!
Grandpa Barry and Grandma Val both held him today!
After they took him off the hydrocortisone (steroid), his heart rate has been normal!
They have decreased his feeds a little because he was getting chunky :)
He's getting a new dosing size of his methadone based on his weight and size and he's back to only getting it every 24 hours
They now think his throwing up spell from this past week was more from withdrawals than anything else. So hopefully this new dosing helps.
And get this- lately, Killian has been touching his hands together and putting them in the center of his chest. One of our primary nurses said this is a VERY good developmental sign! Thank you Jesus!
He's been weaned down to two on nitric oxide (helps his pulmonary hypertension) seems to be doing okay.
The goal is still to take him completely off the NO by Tuesday and then do another echo to see about his pulmonary hypertension.
So prayer warriors and positive thought givers, PLEASE please focus and pray that Killian's echo comes back Tuesday and says that his pulmonary hypertension is still completely gone! If Killian can stay off nitric and if we can get him to feed from a bottle...well, then Lindsey can put him in his crib at home!
And now, for this evening's narrative :)....
I'm having a hard time figuring out how to write this post without it sounding like my dad paid me to say the things that I'm about to say about him. Rest assured, the opinions expressed here are all my own.
Lindsey's and my dad is the best man I've ever known. Point blank. And I would bet money that if you asked others who know and love him, they'd say the same thing.
He's kind. He's wise. He's patient. He's giving. And boy, oh boy, does he love Jesus, his family, his community, his country, his coworkers and especially his new grandson Killian.
At Lindsey's gender reveal party, she cut into the cake and it was PINK! I immediately went out and bought anything with a ruffle on it that I could find. And while my dad was of course elated that he was getting a grandchild, we all knew deep down he wanted it to be a boy. Aside from his five brothers and my husband, poor dad has been surrounded by women for what I'm sure has felt like forever.
About three weeks after that party, Lindsey called after a routine doctor's visit. "I have two things to tell you....the baby is actually a boy.....and there is something wrong with him. I'm leaving for Cincinnati tomorrow for tests." My heart sank.
So dad, now Grandpa (or PawPaw) Garry, found out that he was finally getting that boy he'd always wanted, but that he may not survive.
Dad has been there every step of the way. Living nine hours away from Nashville certainly doesn't make it easy or cheap, but that hasn't stopped him from being there when Lindsey had her orientation at Vanderbilt, in the room when Killian was born, when the doctors whisked him away the moment he entered the world- dad went with him, when Killian was put on ECMO, when he had his repair surgery, when we thought we were losing him and every other single chance he has gotten since. Dad is there.
During the "dark time" as Lindsey and I call it, and though his heart was shattering into a billion tiny pieces watching his baby girl coming to terms with losing her baby boy, our dad sang praises to God over Killian's bedside. Our dad read scripture and lifted us all up. He read stories to Killian in silly voices. And he promised Killian a four wheeler, a boat, a jetski, a car and every other manly thing he could think of, if only he would just pull through.
And while we're still not out of the woods, as you know Killian made it through the "dark time" (dad has since started saving to make good on the motorized vehicles) and has been making small steps toward the door ever since.
Last week, for the first time in Killian's life and for the first time in dad's life, he got to hold a little boy who is part of him.
Good dose of testosterone!
(Aunt Layna's fat thumb was covering the microphone- so...umm...just watch!)
Killian enjoyed being in Pawpaw's arms so much, he started getting sleepy!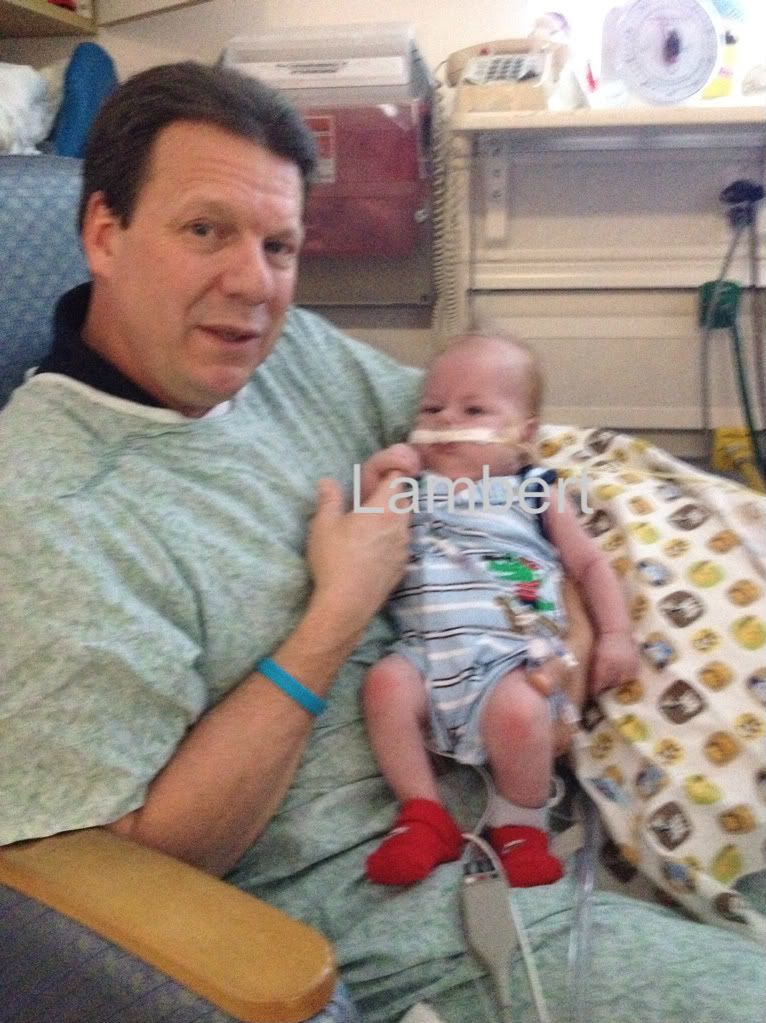 Me and Grandpa Garry! One of my primary nurses, who is one tough cookie, even started crying when she saw me in Grandpa Garry's arms. :)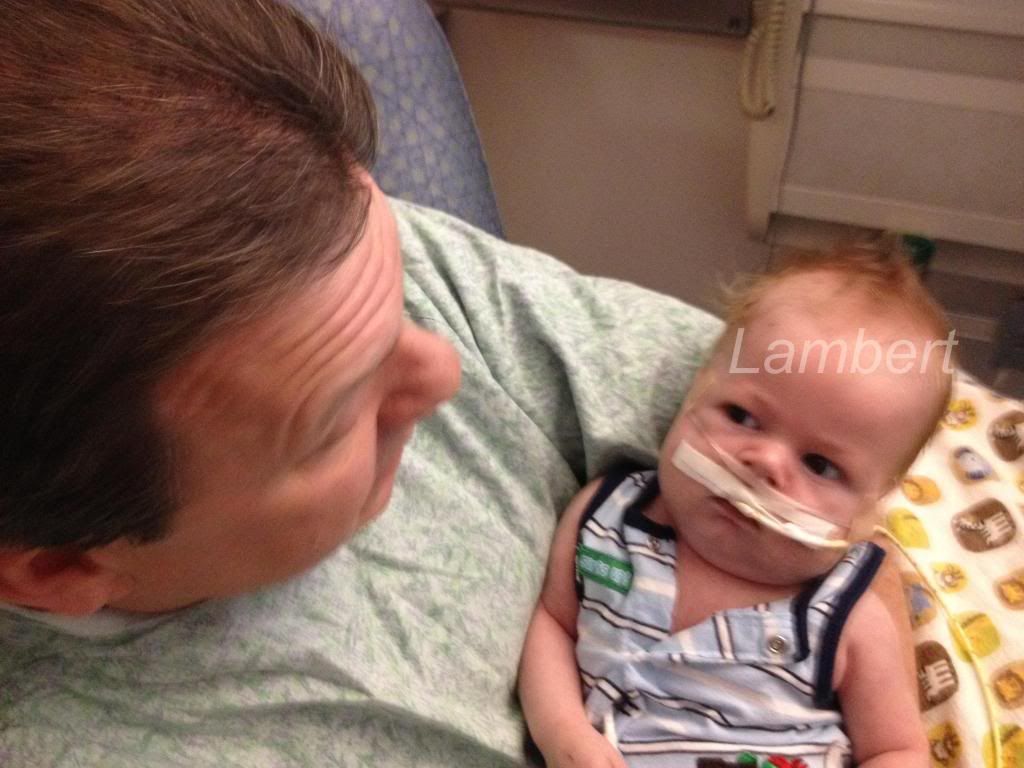 Grandpa, don't forget. You said you'd buy me a four wheeler if I got better.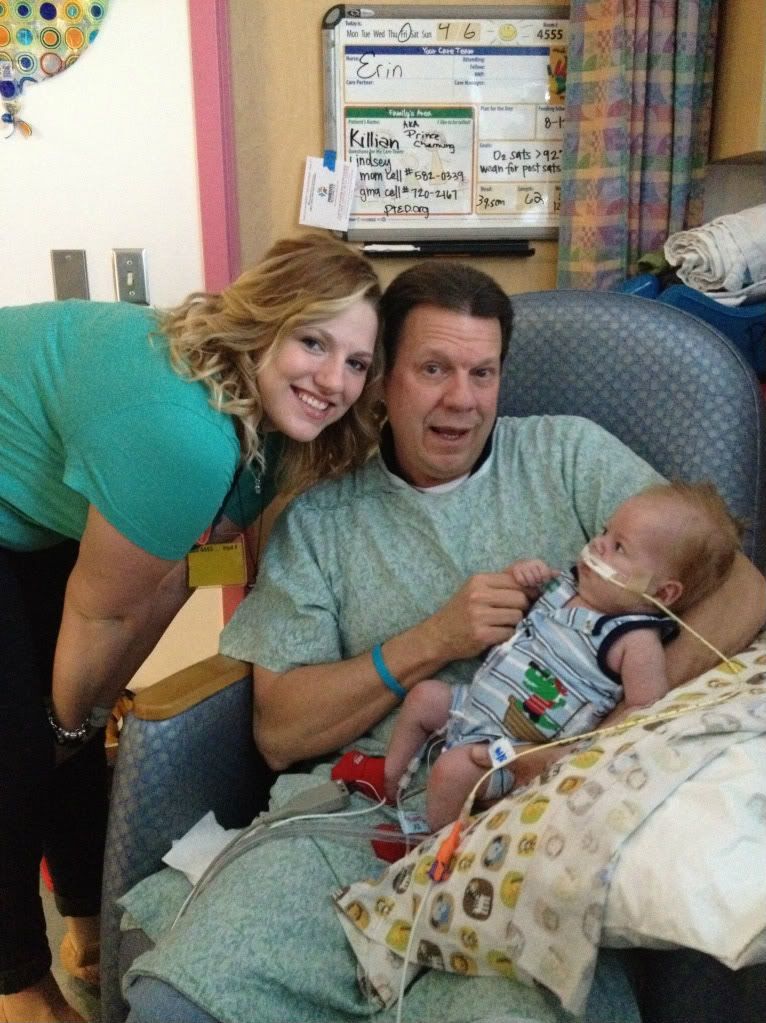 Grandpa Garry with both of his babies!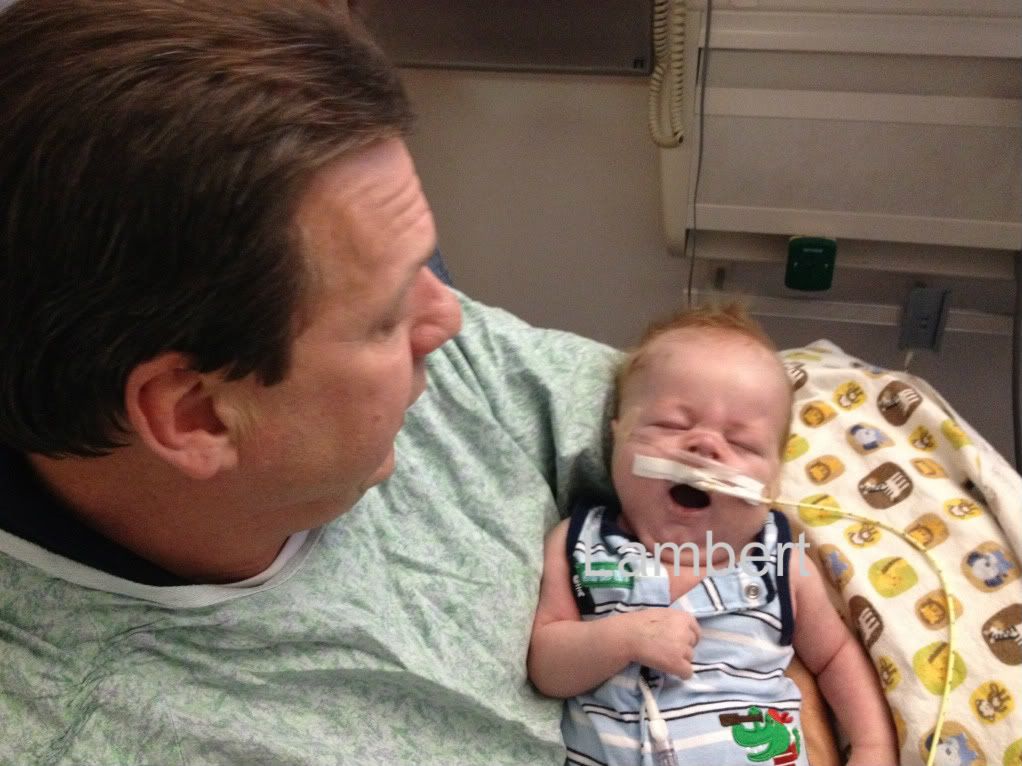 I got so comfortable, I got a little sleepy.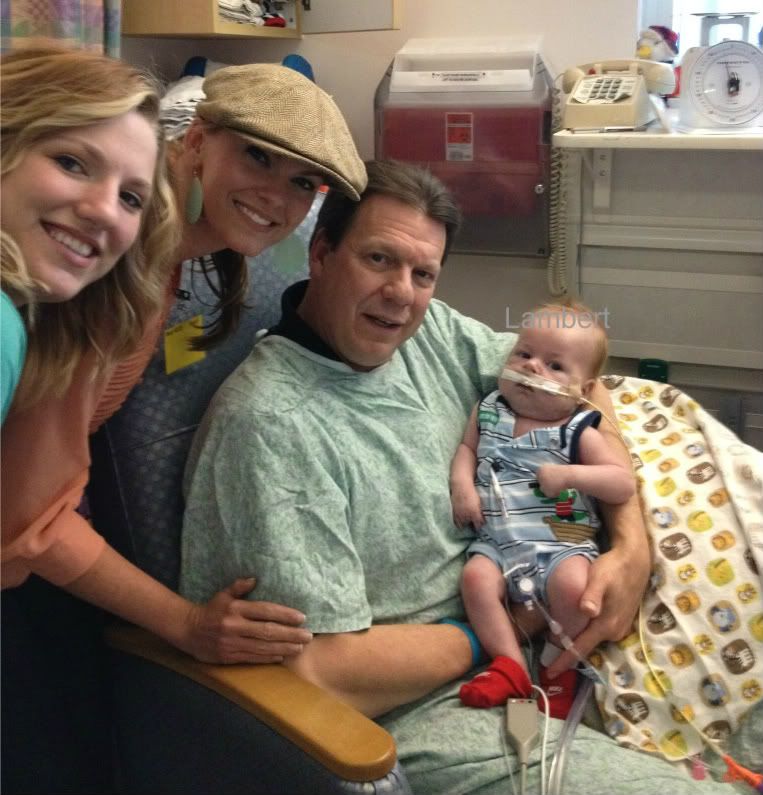 The whole Lambert crew!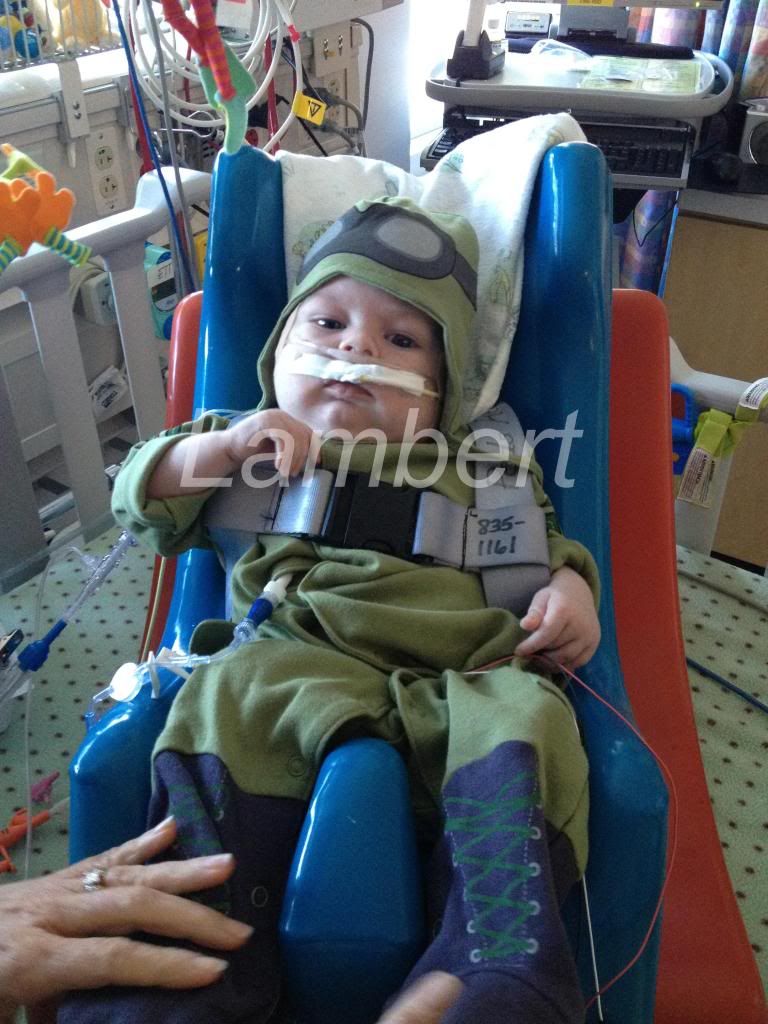 My Grandpa Garry flew Apache helicopters for 20+ years in the army. One day, maybe I'll be a pilot too! In the meantime, I'll just let my crazy family dress me up like one!
Me, Pawpaw Garry and Ker-Bear!
Sometimes the blessings just seem overwhelming. How is it that we could be lucky enough to have the parents, step parents and former step parents that we do! Lindsey and I have joked that our dad has made it very difficult for us to date because quite frankly, in our eyes he's darn near perfect. I can't wait for the day that Killian really realizes that, too!
Linds and I love you bunches daddy. Thanks for being the incredible spiritual leader and caregiver that you are to us and so many around you! And thanks for being the best grandpa in the history of grandpas!
And I leave you tonight with the lyrics of an oldie but goody that we sang in church this morning. Goodnight guys. Love you all bunches!
Great is Thy faithfulness, oh God my Father;
There is no shadow of turning with Thee;
Thou changest not, Thy compassions, they fail not;
As Thou hast been, Thou forever wilt be.
Great is Thy faithfulness! Great is Thy faithfulness!
Morning by morning new mercies I see.
All I have needed Thy hand hath provided;
Great is Thy faithfulness, Lord, unto me!
Hugs from Florida,
Killian's Aunt Layna
P.S. Like his fan page to get the daily updates:
http://www.facebook.com/pages/CDH-Cherub-Killian/301945533181876
~~~~~~~~~~~~~~~~~~~~~~~~~~~~~~~~~~~~~~~~~~~~~~~~~~~~~~~~~~~~~~~~~~~~~~~~
Killian has been fighting - like a champion! - for his life since he was born. Because Killian's family is so spectacular; their friends decided to create this website in their honor to help in any way possible.
We are overwhelmed by the amount of people who have asked for an avenue to help Killian, Lindsey and the family. Any donation made below will go to help pay for food while staying in the hospital, gas back and forth, travel for family and the general care Killian will be receiving beginning on the glorious day he leaves the hospital!
All donations go
directly
to Killian's care and the care of his family. Also, ten percent of all money collected will be donated to
Cherubs
, The Association of Congenital Diaphragmatic Hernia Research, Awareness and Support.
CDH occurs when the diaphragm fails to fully form, allowing abdominal organs into the chest cavity and preventing lung growth. CDH occurs in 1 of every 2500 births; somewhere in the world, a baby is born with CDH every 10 minutes. 50% of babies diagnosed with CDH do not survive. The cause is not known. Over a half million babies have been born with CDH since 2000.

CDH is as common as Spina Bifida and Cystic Fibrosis but there is very little awareness and even less research.