Hi friends! I'm so sorry it's been a few days since the last post. Life keeps getting in the way. But the good news is, Killian, aside from a little hiccup last night, has had an awesome week thus far!
Here's the latest:
He's still completely off morphine with the help of methadone!
He had a blood gas come back this week darn near perfect, so they weaned his settings back a little more. Way to go bud!
In fact, his gases have been consistently good, so they removed his pulse-oximeter- one less tube/line on him!
He seems to be doing well and responding to the physical therapy Lindsey is doing with him. We're all super happy that she's getting to bond with him this way :)
He had a great nurse this week who decided he had been in that dang crib too long so she courageously put him in a bumbo chair (I am not a mom, so I had to look up what that was!) for about 30 minutes and he seemed to enjoy it!
Bumbo Chair. You learn something new everyday!
So the hiccup and where prayers are needed and good thoughts welcomed:
Yesterday baby K's heart was really high for a period of time. They docs speculated that it was due to withdrawals, so please pray for a strong heart and no withdrawals. It's already under so much stress, we just can't afford spells like that.
He's been more fidgety lately as they wean more medications. We just want him to be as comfortable as he can.
They decided to hold off for another week on the echo. I personally am happy about this. After the episode last night, my theory is that it would give a skewed reading anyway.
AND it means we have one more week to join together in prayer or positive thought giving that his pulmonary hypertension improves...better yet...goes away!!!
I've been dreaming a lot about Killian lately. I think it's a combination of missing him and Lindsey plus the fact I'm trying to stop taking Ambien :).
That terrible night that we thought Killian was going to go home to the Lord, one of the two hours I slept (in a recliner in the middle room with Lindsey and Grandma Val) I dreamt that I heard Killian cry.
Even in the depths of my sadness the next day when all of my hope was gone, my loving, wonderful, faithful father said, "That wasn't a dream honey. That was a premonition."
And while I really don't believe that God has blessed me with the gift of prophesy, eight weeks later, I sure do like the dreams I've been having lately!
The second dream I had (after I got back to Florida) was like the last scene out of Steel Magnolias when Shelby's son is running in the park. 'Member that one? In my dream, I saw a child about three years old, who I knew to be Killian, running toward me with his arms wide open, smiling and ready to give me a hug. He had beautiful, fine blonde hair and blue eyes. He was wearing cute denim overalls. And he was completely, perfectly normal. No handicaps. No tubes. Just a normal happy boy.
In the dream I had last night, Killian was three months old and still in the hospital, but he had pulled out his breathing tube (again-he's done it once in real life). Lindsey was holding him when I walked into the room. As he sat in her arms, he looked up, touched her face and said, "Mommy! Mommy!" Now, I know most three month olds can't talk, but again, he was perfectly normal- in fact, extraordinary! :)
So whether they are dreams or glimpses of the future (minus the three month baby talking bit!), we have faith that he will grow, thrive and have life abundantly.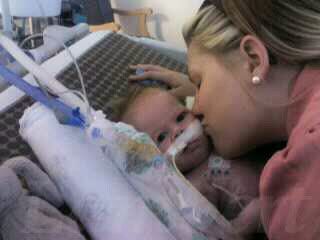 Sweet kisses from mommy!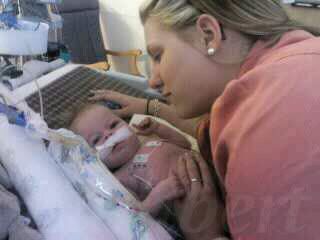 My new bed is big enough that she can snuggle with me now!
Now that I'm off morphine, sometimes my tummy gets upset. But mommy just puts her hands on me and it makes me feel better.
Time for a nap!
But without faith it is impossible to please Him,
for he who comes to God must believe that He is,
and that
He is a rewarder of those who diligently seek Him.
Hugs and lots of love from Florida!
Aunt Layna
Killian's Social Media Coordinator
~~~~~~~~~~~~~~~~~~~~~~~~~~~~~~~~~~~~~~~~~~~~~~~~~~~~~~~~~~~~~~~~~~~~~~~~~
Killian has been fighting - like a champion! - for his life since he was born. Because Killian's family is so spectacular; their friends decided to create this website in their honor to help in any way possible.
We are overwhelmed by the amount of people who have asked for an avenue to help Killian, Lindsey and the family. Any donation made below will go to help pay for food while staying in the hospital, gas back and forth, travel for family and the general care Killian will be receiving beginning on the glorious day he leaves the hospital!
All donations go
directly
to Killian's care and the care of his family. Also, ten percent of all money collected will be donated to
Cherubs
, The Association of Congenital Diaphragmatic Hernia Research, Awareness and Support.
CDH occurs when the diaphragm fails to fully form, allowing abdominal organs into the chest cavity and preventing lung growth. CDH occurs in 1 of every 2500 births; somewhere in the world, a baby is born with CDH every 10 minutes. 50% of babies diagnosed with CDH do not survive. The cause is not known. Over a half million babies have been born with CDH since 2000.

CDH is as common as Spina Bifida and Cystic Fibrosis but there is very little awareness and even less research.